I've recently been working on 3, no sorry, 4 comic projects.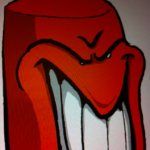 1 is a single page short that is now finished and ready for the anthology I'm having work included in!
The second and third are both my personal comics, which I'm hoping to have ready for Nottingham Comic Con (which you can now get tickets for!!).
And the fourth is a 4 page comic for a collection of comics about a band and their antics. I've written the script using the very cool (and very free) Celtx and am in the character design stage. I'll have more on all my projects as they progress, but if you'd like to see more as I go along, check out my Instagram account.