The Making of a Comic Con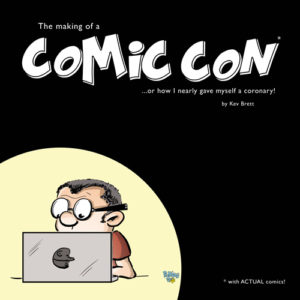 I have now finished my new book, The Making of a Comic Con. It's a biographical and humorous comic based on Kev Brett's life as he takes on the challenge of putting on a comic convention.
A funny perspective on how things can escalate and how they can ultimately take over your life, from weird photoshoots, to huge debts, to recurring nightmares!
This fun little book will have everyone wanting to organise an event…
The book has also been reviewed over on the Down the Tubes website by the one and only Tony Esmond, so please go check it out.
It will be premiering at True Believers Comic Festival in Cheltenham on 4th February, so please pop along and say hi, or if you can't make it, you can preorder your copy here. Plus I'll have all of my other books INCLUDING an incredible bundle deal to get ALL of my books for only £25 PLUS a free print!!! Stock is limited on some books, so you best be quick!