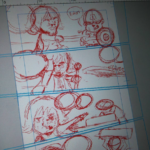 Howdee. I may have been a tad quiet on this blog, but trust me I'm keeping myself busy (please just check out my Instagram page!).
I'm currently working on 2 short comic stories (3 pages each), both of which will feature in 2 separate anthology books. One of the stories is written by the Awesome Comic Podcast (Parental Advisory) presenter and Down the Tubes contributor, Tony Esmond.
I've also been handed a novel and short story by published author Adam Nightingale, to adapt to the comic page (we'll have to see on that front – whole new ballgame!!).
PLUS I MAY have a comic strip being published in a magazine…more news soon…
To keep up to date with what I'm doing and regular scribbles, check out my Instagram, Twitter and Facebook pages.