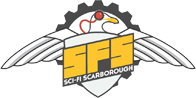 Evening all. Just thought I'd catch up with what's been going on recently.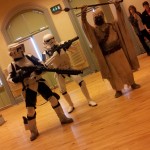 Firstly we've just got back from a thoroughly enjoyable weekend at Sci Fi Scarborough. We were exhibiting and selling our prints and comics (including Elementary? – which you can now get your mitts on here) and all round Piddley Pix goodies. We had loads of fun, watching the cosplay armies in weird and wonderful outfits as well as catching up with folk we met at last year's Nerd Fest!
We were even fortunate enough to be in the hall where they had the Red Dwarf Q&A panel and the Dr Who panel with Colin Baker! Really enjoyed them! If you get chance to go next year, do so. Great guys who put it on and the venue is awesome. Had a great turnout this year so I can see it going from strength to strength.
Also met some really great people…some of which maybe coming to Nottingham in October…
Speaking of which, check out the Nottingham Comic Con website. We've revealed 2 guests so far, with more to come, and you can now get your hands on tickets!!!