Badgers! Badgers! Awesome Badgers!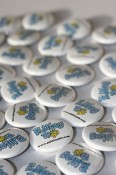 Look what arrived at the PP HQ this week!
Our very own Piddley Pix badges. And what are we doing with these little bad boys you ask.
WE'RE GIVING THEM AWAY!!!
That's right, with each purchase made from the site, we'll be throwing in one of these little fellas as a small thank you!
And if you fancy getting your own badges done, go visit the very awesome folk over at Awesome Merchandise – it's in the name!!
Latest Products added to PP: