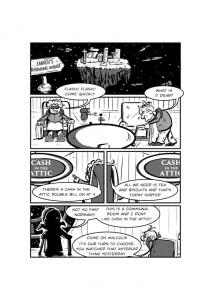 I recently got my hands on a new book! My new book! My new book in collaboration with 3 other awesome artists!
MK2 is an anthology of stories written and drawn by myself, Michael Barnes, Mike Jackson and Kel Winser.  It's hopefully the first of many collaborations with these guys. This first book is an all ages sic-fi/fantasy book. Each one of us wrote a short 5 page story for one of the other artists to draw. I had the privilege of drawing a story written by Michael Barnes and was totally blown away by the artwork of Mike Jackson on my little story!
So the book is 4 short stories by 4 different artists and storytellers AND you can get your hands on your very own copy HERE! Go check it out.
It was a pleasure and an honour to be asked to work on this book and I hope it's the start of a long and prosperous relationship!